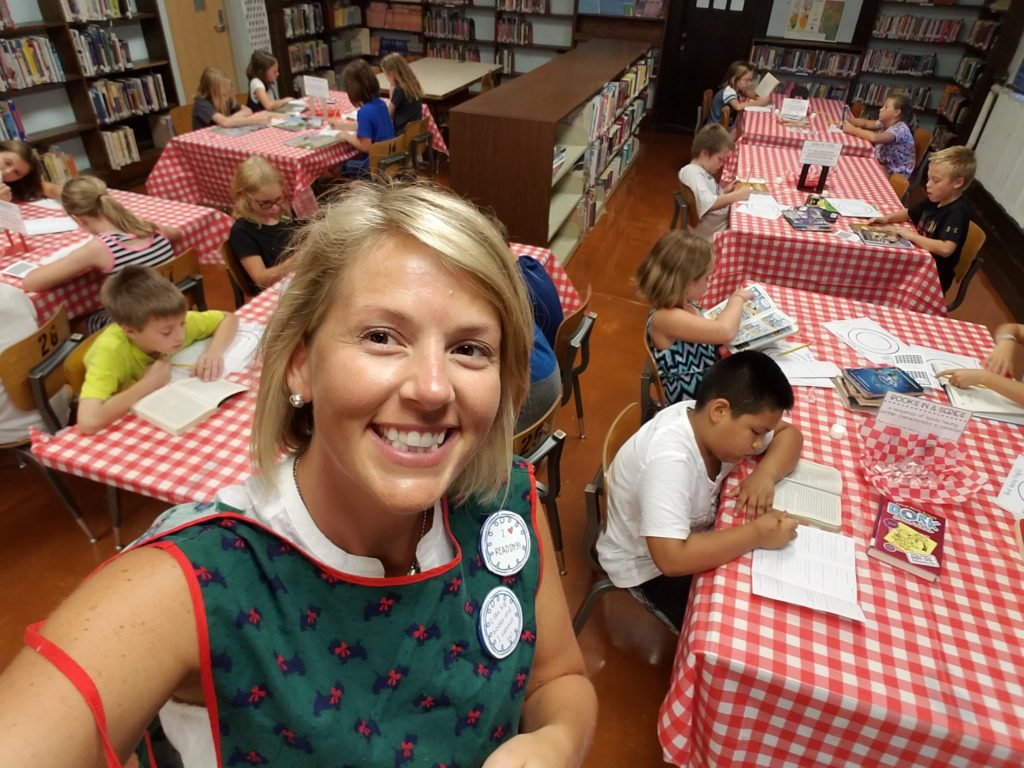 Students in Lisa Niewold' s 4th grade class were treated to a unique "dining" experience to start off their school year.
The school library became the site of a pop-up restaurant, when Mrs. Niewold pulled on an apron and transformed into Chef Niewold. She first asked her students to "coat check" anything they wouldn't need during their meal then they sat down ready to eat!
Chef Niewold explains, " I prepared various meals to sample and determine if it's something that should be kept on the menu or maybe only as an appetizer or possibly they'd like the full meal (whole book). The meals I had prepared were books from 6 different genres."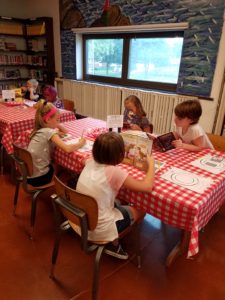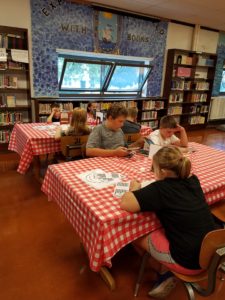 Students sampled each entree by reading a few pages, the back cover, author page, etc. Then they decided as a group how to rate each meal.
Between meals, each student was able to cleanse their palate with an after-dinner mint before moving on.
The atmosphere was set with red checkered tablecloths and battery operated tea lights which Chef Niewold jokingly warned were highly flammable and she had no insurance. She also explained that the restaurant business (reading) is no joke and takes time and effort to really make a difference.
After their meals were finished students wrote their thoughts down on "napkins".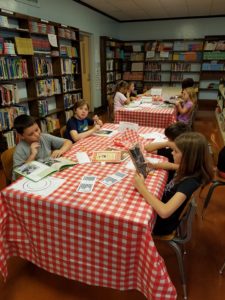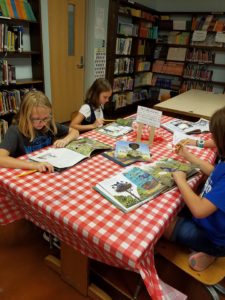 The reviews are in and these 4th graders thought Chef's Niewold's restaurant was a hit!
Logan O. – "I think it's funny it's called a book tasting. I liked eating your books. I thought it was fun. Some books weren't good, but the others were amazing. I enjoyed the mints! We learned how to be proper."
Bella B. – "I loved book tasting! There were actually a lot of books I thought I wouldn't like, and I surprisingly liked them! I wanted to do this all day. I loved seeing and reading new books."
Kaiden W. – "My favorite book series was Bone and your food tasted amazing."
Kylie R. – "I liked trying different books. You definitely need to keep your restaurant open! I liked the books that I didn't think I would. I loved being introduced to new books. A lot of them were interesting."
Dierks K. – "I liked it. I love reading and I think you should stay in business."