Each year in May, The PBL Education Foundation hosts the annual Senior Awards Ceremony & Reception. This prestigious event honors graduating Seniors and their accomplishments with Awards and Scholarships given from a wide variety of sources.
Currently, The Foundation administers 3 of the many scholarships available to graduating seniors. Those scholarships are Farmers-Merchants Bank of Illinois, Order of Easter Star and Virginia Graham.
Students and their families along with staff members have congratulatory pictures taken, share stories and memories while indulging in an extravagant spread of appetizers and desserts. A deserving tribute to our Seniors who have achieved so much and represent "the best" of PBL!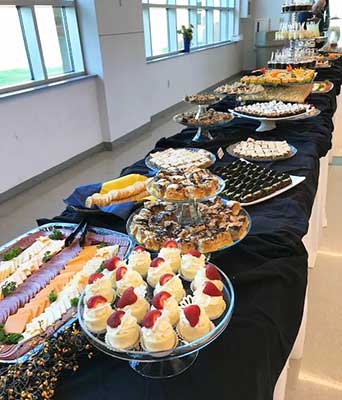 secretary
Eastern Star Scholarship Rebekah Watts     Farmers-Merchants Bank of Illinois Scholarship Ephraim Johnson     Virginia Graham Memorial Scholarship Isabella Martin
secretary
Eastern Star Scholarship Cameron Grohler     Farmers-Merchants Bank of Illinois Scholarship Cameron Grohler
secretary
2021 Senior Award Scholarship Winners   Farmers-Merchants Bank of Illinois Scholarship Ella Curry   Order of the Eastern Star Scholarship Ella Curry   Virginia Graham Scholarship Christina White