Donor support has allowed The Foundation to provide up to 1,000 students in grades K-8 with a coupon to purchase one book, of their very own, to keep and to share.
Reading is a vital lifeskill, and book ownership encourages independent reading.  In the past, too many families did not have the means needed for their student(s) to participate in the fairs. Donors to the rescue. THANK YOU!
The different building libraries also benefit from this Foundation program. Each book purchased earns the building library points they can use to update their own student libraries.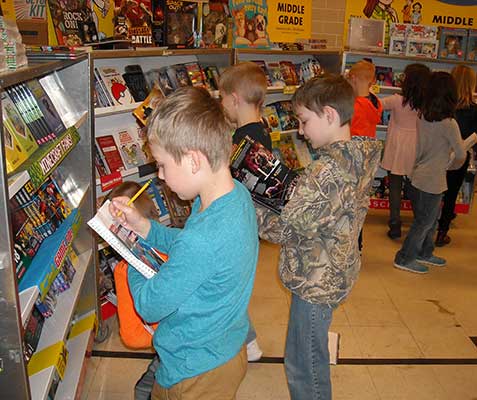 secretary
Students at the PBL Jr High peruse the selection of books offered at the book fair. "Historical Non-fiction! Sports! Mystery! Anything!"  When a 5th grade class from PBL's [...]
secretary
Kindergarten through 8th grade book fairs have recently been completed in the PBL school district. Three long-time donors—Farmers-Merchants National Bank of Paxton and Melvin, Gibson Area Hospital and Health Services, and Cynthia Swanson [...]
IMPACT – Books Make a Difference
"The kids who have the fewest books at home take the longest time to make their decision. Their book is truly a treasure."

– Linda, PBL Teacher