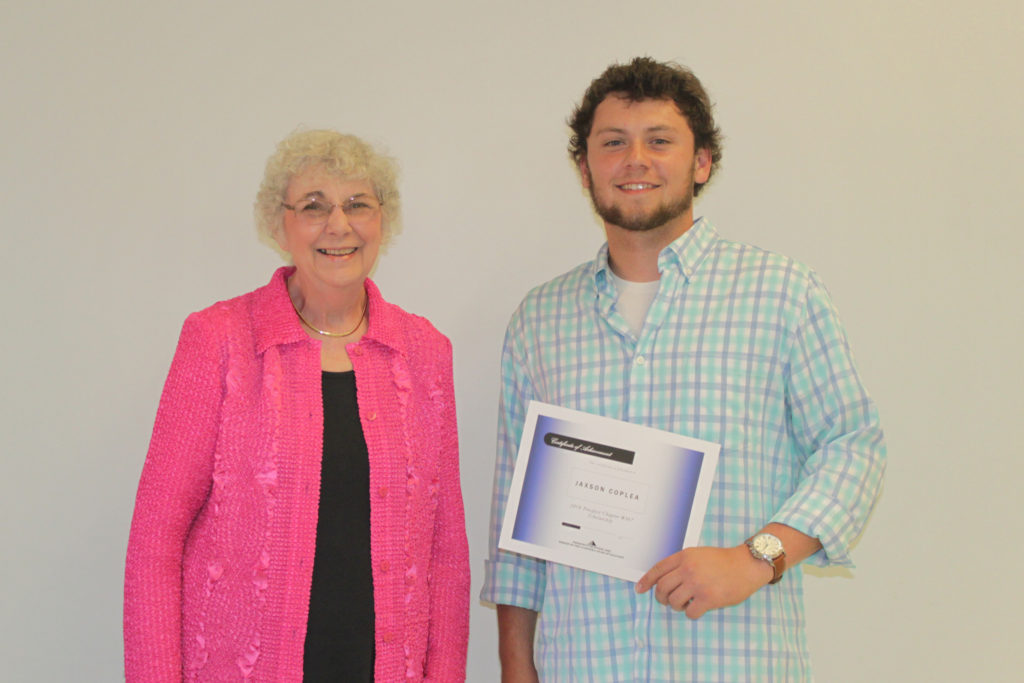 Jaxson Coplea, son of Mark and Jodi Coplea of Loda, was recently awarded the Prospect Chapter of the Order of the Eastern Star Scholarship.  The award was presented by Caryl Nuckols. Currently administered by the PBL Education Foundation, the $1,000 scholarship is awarded to a graduating senior of PBL High School and is based on character, citizenship, dedication, integrity, service to school and community, and academic achievement.
In addition to participating in football and baseball for four years, being team captain for three years for both sports, Coplea also participated in weight lifting team for four years and basketball for three. He found time to be involved in Math Team, Future Business Leaders of America, Blue Crew, and FFA.  He was a member of the National Honor Society, on the High Honor Roll all four years and was an Illinois State Scholar , and very active in his church youth group.
Coplea's commitment to community service is very extensive. He performed many different tasks for the Hands of Christ Food Pantry, Meals on Wheels, Champaign Developmental Services Center, Cunningham Children's Home, University of Illinois Wesley Foundation, Loda United Methodist Church, East Bay Camp, Eastern Illini Electric Cooperative's annual meeting, PIT Crew at Clara Peterson, the Ludlow Cooperative Elevator, Wade's 5K Run for 5P, Community Garden, and the PBL Backpack Program.  
Coplea is committed to serving his community through his passion, integrity and excellence in the field of line work. He plans to attend Northwestern Lineman College in Denton, Texas in the fall.