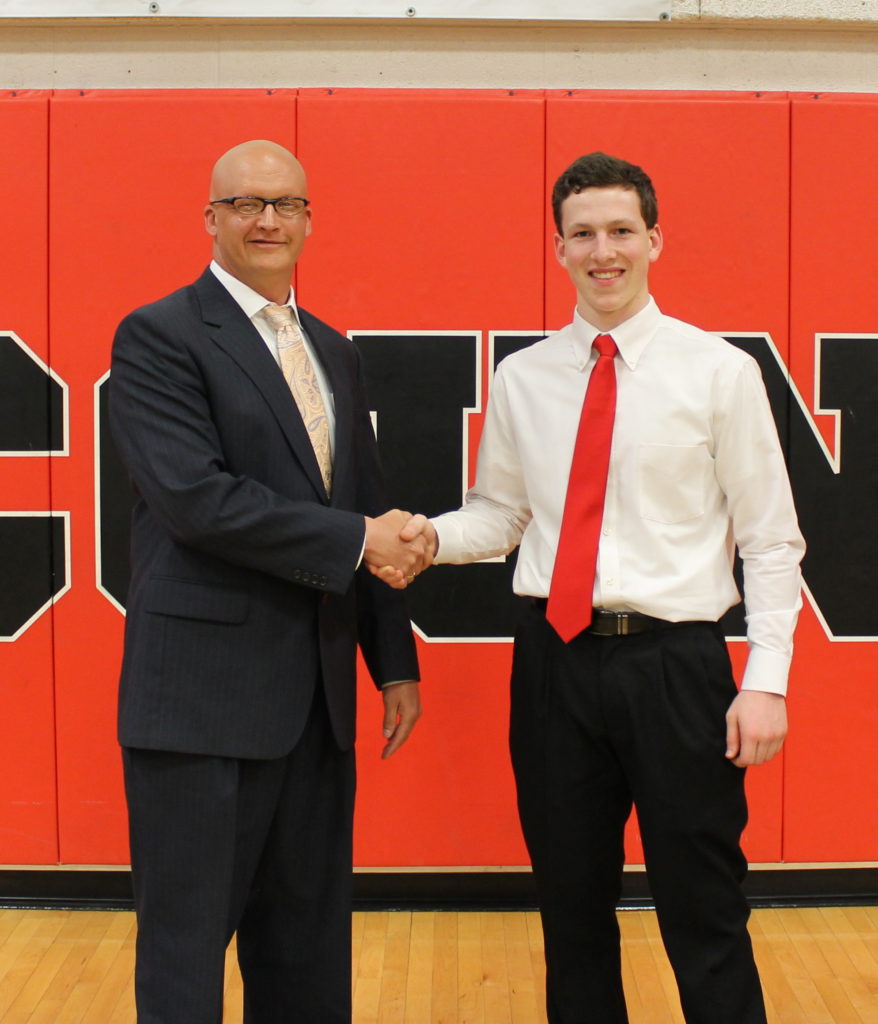 Jeremy Steidinger, son of Brian and Cathy Steidinger of Gibson City was recently named the Farmers-Merchants National Bank scholarship winner for 2018.  The award was presented by Nicholas Ruetter of FMNB. Currently administered by the PBL Education Foundation, the $8,000 scholarship, payable in four $2,000 payments, is awarded to a graduating senior living within the PBL or GCMS school districts. To be eligible, an applicant must have maintained a minimum of a 3.0 grade-point average based on a 4.0 system through the seventh semester of high school. Applicants are evaluated on three criteria: academic achievement, participation and leadership in school and community activities, and a written essay.
Steidinger, impressively, was named student of the year all four years of high school, senior math student of the year, junior science student of the year, sophomore music student of the year, freshman foreign language student of the year, 2018-19 Illinois State Scholar, and was also October 2017 Student of the Month. In addition, in his senior year, he was given the GC Lions Club Scholastic and Athletic Achievement Award, the National School Choral Award and was honorable mention for the American Legion School Award.
Over his high school career, Jeremy was active in Calculus Club, Interact Club, National Honor Society, earned many honors in Chorus, participated in all four of the spring musicals, and was cast in several plays as a member of the ACT Theatre Company.
Jeremy was a four year member of the soccer team. He was named Captain, "Most Dedicated Player of the Year," "Defensive Player of the Year," the Rantoul Press's "Defensive Player of the Year," and was honorable mention for the News Gazette's All-Area Soccer Team, all in his senior year.
He also has gained work experience at the Meat Shoppe Restaurant and Food Production Facility in Fairbury, IL.
Steidinger's future plans are to attend Bradley University in Peoria this fall to major in Engineering.