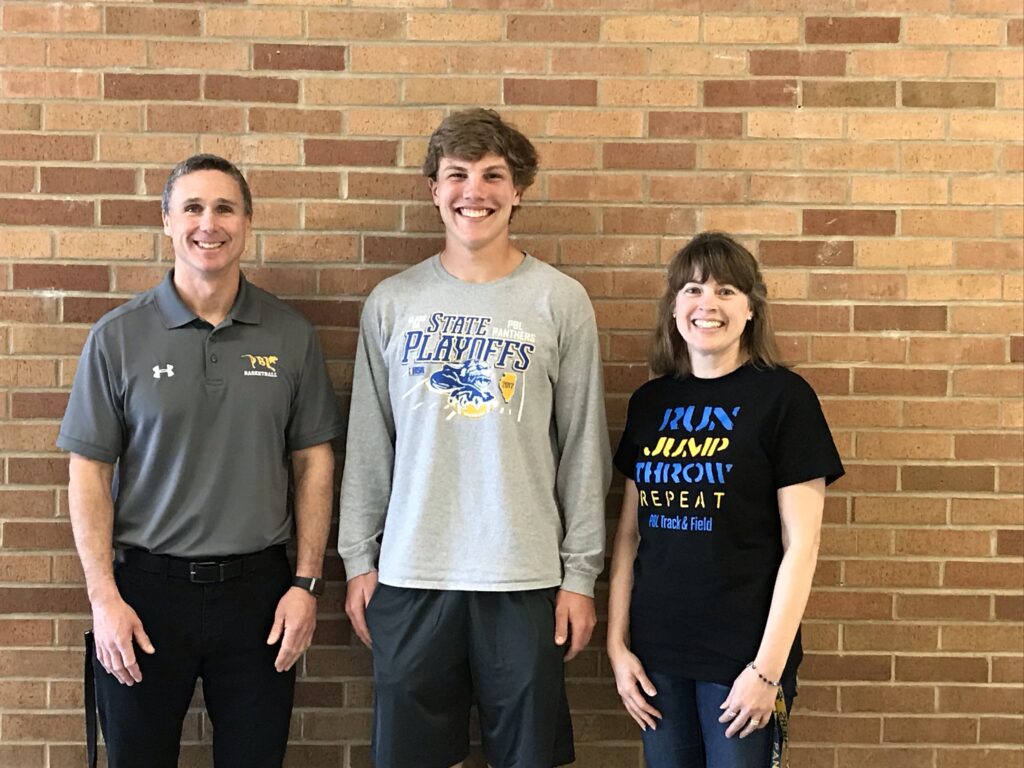 Junior Dalton Busboom of Ludlow has been named the PBL High School Student of the Month for April. His parents are Derek and Holly Busboom.
Sheila Pickens, PBL High School Math Teacher, nominated the junior, writing in her nominating letter,
"Dalton is taking our most rigorous classes at PBL including Ag Business Management, AP English, AP Calculus, Chemistry 2, and Spanish 3. In the classroom, Dalton is second to none. He works hard to understand information and is willing to help his classmates. Dalton is naturally talented, but also strives for full understanding. He is not learning material for the sake of a grade. He sees the bigger picture beyond high school and constantly works to make improvements so he can be the best he can be. Even if he has an A, he works to understand mistakes that he has made and correct them so he is not making the same mistake again later. He checks his work at the end of every test or quiz so that he knows he has given his best work and best answers.
As a teammate, Dalton was a member of the FFA Parliamentary Procedure team that placed 3rd in the Nation. Dalton was also a key player on both the Football Team that made Playoffs and the Basketball Team that won Conference and Regionals. Dalton gets pumped up and cheers on his teammates during games and motivates them to work harder and play smarter. As a member of the Math Team, Dalton is advancing to the State Contest in May with the Calculator Team.
Dalton is respected and liked by teachers and his peers. He was nominated for Homecoming Court and Prom Court. He was also selected to be a part of the Student Exchange with another high school. In class and in Math Team practices, I have seen Dalton explain problems to other students, being patient and kind while doing so, not condescending or haughty when he talks someone through a difficult idea. He explains simply and concisely. I believe that he deepens his understanding each time he explains a math problem or concept to a friend. He also earns their respect.
Dalton is a difference maker in every classroom and on every team and organization that he joins, which is why I believe that he deserves to be recognized as Student of the Month."
At PBL, Dalton is involved in many extracurricular activities: baseball, basketball, football and Math Team, as well as serving as FFA Sentinel, Student Council Treasurer and National Honor Society President. Outside of PBL, he likes to read and also volunteers his time to help coach flag football and basketball at the Paxton Park District.
Although he is still deciding on his future past high school, he plans to attend college, possibly majoring in Engineering.
The Student of the Month Award is administered by the PBL Education Foundation. The award focuses on recognizing students at the high school level who demonstrate the district mission of "excellence through rigor, relevance, and relationships."  Teachers are free to nominate students by any criteria they choose as long as it demonstrates the school's mission.
Each month's winner receives $50.00 in Paxton Area Chamber Bucks. The 2018-2019 Student of the Month Program is sponsored by Gilbane Building Company.
Caption for picture, l to r: PBL H.S. Assistant Principal Jeff Graham, April Student of the Month Dalton Busboom, and Nominating Teacher Sheila Pickens